Oh hi Truckies.
We've got another patch going live in a few hours, and we're f&$#ing pumped to share the details:
Added 20 new paints (10 sets) get out there and find 'em
Your game will now save every 100 miles (the game will tell you). No more lost progress! Probably!
Raised vending machine prices. Balance reasons
Route lengths have been increased again. Also balance reasons
Adjusted volume across the board; ambient winds lowered, radio raised, sound effects evened out, etc
A few glitches after recent optimization have been fixed (for example, no visual flash when you change sorting in parts)
WE WILL BE RESETTING EVERYONE'S PROGRESS FOR THIS PATCH.
I scream because I care. You will lose everything, including your paints, scrap, parts, and crates. This is our first wipe but we feel it is necessary now that many bugs have been crushed and significant balance changes have been made. The game should "feel" better overall, but we'll wait to see what ya'll say. Unless it's negative in which case how dare you.
Check out a small preview of the new paint sets: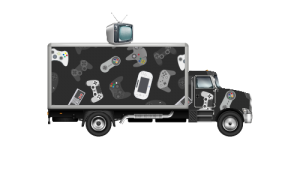 Get the Truck on the Road,
Morkins & Dorgles