Hi Truckers,
Happy Tuesday. At this point, you're probably wondering how long this whole Mega Patch thing is going to go on before we actually ship it. Maybe you're even starting to question whether or not this whole thing has been a clever ruse and there is no Mega Patch. Maybe there isn't. Or maybe, just maybe, Fleet is done! That's right kids, Fleet is in testing and fully functional. Here's a current shot of the recent build:
Yep, we're balancing Fleet and it actually works (also, it's a lot of fun). Drivers contribute their progress to the total progress bar, crates can be claimed, levels can be gained, and even trained. Unintentional rhymes! Yeah, that's another thing we built. Check it out: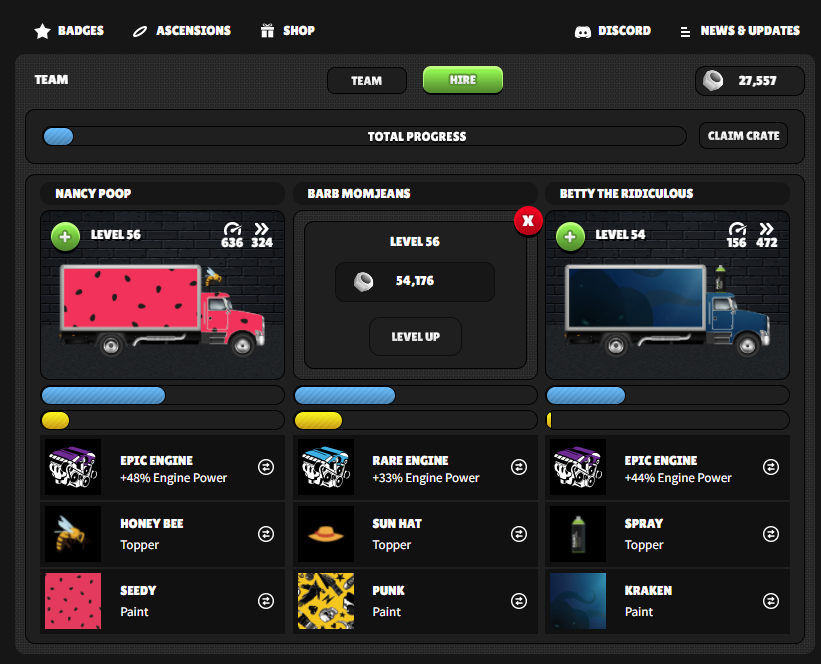 You can now invest in your current drivers and level them up manually by spending scrap. You can also customize their appearance and install new parts to make them even better. Or, of course, you could just be lazy like I am and hire a team instead:
We've seen this screen before, Dan. Show us new shit, Dan. I know, it's totally the same thing I've shown you like four times now except nice try you son of a bitch it is most certainly not. Notice the upper right corner? Every ascension increases the max hire level which means you've got some choices to make. Do you hire the driver with the best stats and the weakest gear because you've got a nice engine on hand? Do you hire the highest level available regardless of stats and manually level them beyond the cap? Or do you reroll until you've got the best driver stats regardless of their level and level them up manually, or watch them get stronger on their own? We've given the player a lot of control, is what I'm saying. It's up to you how you want to play it, and we've provided every min-max option in the book.
The list is getting… smol. We're balancing. We're polishing. Badges. Goals. There isn't much else before we reach EA and holy truckballs (fuzzy dice?) it's been a long sprint. As many of you know, Mike and I both work full time gigs outside of this beautiful, stupid, recklessly ambitious video game but we've always found time to make improvements, communicate, and effectively slaughter the scope with new ideas, features, and let's be totally honest, OCD. But still, we've managed to hit the home stretch. Sure, you've heard that before in one version or another that we're "almost there," but we haven't added anything to the list since project Mega Patch launched. A few bugs, sure, but no new features. Fleet was it, and it's being tested. Once we get a few extra pieces of content and balance, we're ready to roll. Literally, because wheels.
Seriously though, thanks to our amazing community. We know you've been waiting for months for this thing to finally go live and we're forever grateful for that. It'll be worth it. The game has changed so much and we can't wait to share it with you. I know with the consistent sarcasm that it's hard to take us seriously when we're being sincere, but y'all are amazing. Next steps: polish, balance, and bugs. And we're live. Let's gooo!
Mega Patch Incoming,
Dan & Mike